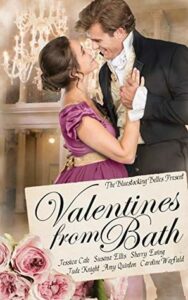 Wonderfully fun collection of Regency Romance stories. Some were more authentically Regency than others, but all were an enjoyable read with an all-important HEA.
I particularly enjoyed Candles in the Dark, which was very moving in parts and appeared to be very well-researched, and The Umbrella Chronicles which was a different take on the usual Regency story, in terms of its hero in particular. But it felt authentic nonetheless and the characters were very engaging.
All the stories weave into the same setting and climax of a Valentine's Ball in Bath. I highly recommend Valentines from Bath to fans of Regency Romance.